DUI with Minor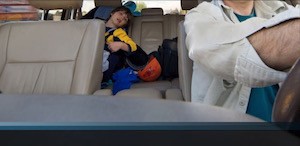 Facing any DUI charge is stressful and challenging. When a child was in the car during the arrest, however, penalties can increase drastically. Arizona has strict laws regarding DUI, and if a minor under the age of 15 is present in a DUI case, you could be facing a mandatory fine, a jail sentence, license revocation, and other harsh penalties.
If you have been charged with a DUI with a minor in the car, you're probably feeling overwhelmed, but an arrest does not guarantee a conviction. An experienced lawyer with knowledge of DUI offenses can be critical to having your charge reduced or dismissed, or to fight for a not-guilty verdict if necessary.
Mesa DUI with Minor Defense Attorney
With nearly 15 years of defending Arizona residents facing DUI offenses, James Novak is ready to defend you against this serious charge. He knows that the outcome of this case will affect you for years to come, and he approaches each case with attention to detail and a determination to fight for a favorable outcome. Those in Maricopa County, in cities like Tempe, Mesa, Gilbert, and Chandler, can turn to the Law Office of James E. Novak for skilled legal counsel. Call (480) 413-1499 today to schedule your free consultation and begin defending your future.
---
The Effects of a Minor on a DUI
In Arizona, you can be charged with a DUI if your blood alcohol content (BAC) is over .08. However, if a minor under the age of 15 is present in the car while the driver is intoxicated, the DUI charge is increased to an Aggravated DUI charge. This substantially increases the potential penalties.
As with other crimes in Arizona, if you have other criminal offenses in your background, the penalties that you face increase. As a class 6 felony, a charge of Aggravated DUI with a child in the car carries the following potential penalties:
First time offenders must serve a mandatory sentence of 1 day un jail, and can face up to 2 years, as well a minimum fine of $4,600. The driver's license will also be revoked for 1 year, they must reveice alcohol counseling, and they must use an ignition interlock device (IID) for 2 years after the conviction.
A prior DUI offense increases the mandatory minimum sentence to 30 days in prison, while the other penalties remain the same.
If the offender has 2 prior DUI charges in their background, they must serve at least 4 months in prison.
Any prior felony in the offender's criminal record increases the minimum sentence to 9 months, and they can be sentenced for up to 2 years and 9 months in prison.
The penalties continue to increase if there are any further DUI or felony charges in the individual's criminal history.
Sometimes this charge is couple with other offenses, such as child endangerment or even abuse, which can increase the potential penalties.
---
The Law Office of James E. Novak | Tempe DUI with Child Lawyer
For your free consultation about the unique circumstances of your situation, call (480) 413-1499 today. The legal team at the Law Office of James E. Novak have helped hundreds of clients facing DUI charges, and they are ready to proactively fight for your rights and freedom. James Novak and his staff help clients throughout Tempe, Scottsdale, Mesa, and the surrounding areas of Arizona.