Accident DUI Based on Alcohol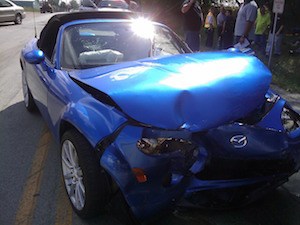 Drunk Driving Attorney Representing Tempe Residents
Traffic accidents involving DUI may result in very serious criminal charges in Arizona. If you are involved in a DUI that results in an accident and injuries to someone else, you are likely to face felony DUI charges. If someone is killed as a result of a DUI, you may be prosecuted for vehicular manslaughter as well. James Novak is an experienced Tempe accident DUI lawyer and former prosecutor who can investigate the circumstances of an accident DUI based on alcohol in the Phoenix area. He can use insights obtained as a prosecutor to try to get your charges reduced or dismissed, or he can take your case to trial when appropriate.
Accident DUI Based on Alcohol
Most DUIs are charged as misdemeanors. They are taken seriously but are not felonies. However, accident DUIs may involve felony charges. You may be charged with several crimes after an accident DUI, depending on the circumstances. Potential charges include driving under the influence while impaired to the slightest degree, driving with an alcohol concentration of .08 or higher, driving under the extreme influence of intoxicating liquor, aggravated driving under the influence, leaving the scene after causing an accident resulting in serious injuries or death, aggravated assault, and manslaughter.
Each of these crimes is covered under a different statute. Under § 28-661, for example, a driver involved in a hit and run accident resulting in serious injuries is guilty of a class 2 felony if they caused the accident, or a class 3 felony otherwise.
There is no separate law that specifically addresses vehicular assault or vehicular manslaughter in Arizona. Instead, these accidents are covered by A.R.S. § 13-1204 (A), the aggravated assault statute. If someone uses a dangerous instrument or deadly weapon—such as a car—to seriously injure someone, and they have done it recklessly, knowingly, or intentionally, vehicular aggravated assault may be charged.
You may be charged with aggravated assault for deciding to operate a car despite knowing of your intoxication and knowing of the risk of an accident. The penalties for aggravated assault depend on the class of felony that is charged, and they may include imprisonment, fines, mandatory drug screening, driver's license revocation, probation, community service, and the installation of an ignition interlock device. The presumptive term for a class 2 felony, which is the most serious class of felony that may be charged, is 10.5 years.
Arizona's implied consent laws require you to submit to a blood, breath, or urine test if you are arrested or if you have been involved in an accident that resulted in death or serious injuries, and the police officer has probable cause to believe that your intoxication was a factor in the accident.
You should not assume that a conviction for any of the potential charges related to an accident DUI based on alcohol is certain. As an experienced attorney, Mr. Novak can use various strategies to try to get the charges dismissed or reduced to a lesser charge. For example, he may be able to show that a defendant did not cause the accident or that a blood test was improperly administered.
Consult an Experienced Tempe Lawyer to Fight Vehicular Charges
Accidents caused by DUI may result in injuries, death, or property damage. They are taken seriously by prosecutors, and a conviction may result in harsh consequences, including negative implications for a personal injury lawsuit brought by any person who was hurt in the collision. As a drunk driving attorney who is knowledgeable about accident DUI based on alcohol, Mr. Novak can try to find weaknesses in the prosecution's case and develop a strong strategy to defend you. Contact James Novak at (480) 413-1499 or via our online form to set up a free appointment. He represents defendants throughout the Phoenix area, including in Mesa, Chandler, Gilbert, Scottsdale, and elsewhere in Maricopa County.